When:
December 17, 2017 @ 11:00 am
2017-12-17T11:00:00-05:00
2017-12-17T11:15:00-05:00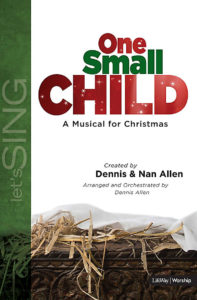 One Small Child: A Christmas Musical
The Pleasant Grove Sanctuary Choir and Pleasant Grove children will present the Christmas musical One Small Child. We would like to invite you to join us for this exciting presentation. You will be blessed! Composers Dennis and Nan Allen have created a beautifully woven musical using familiar Christmas songs such as Joy to the World, The First Noel, and arrangements of newer Christmas songs such as Mary Did You Know, In the First Light, One Small Child, and others. The message of the gospel and God's gift to mankind is clearly presented. One Small Child will be on Sunday, December 17, at 11:00 am. We hope you and your family can be there. Please pray for us as we continue to prepare. And please bring a friend that they might be blessed this Christmas, too. Merry Christmas!